Bosch Rexroth offers multiple options for Motion and Logic Controllers under the IndraMotion MLC umbrella. Many products that they offer are all-in-one solutions, meaning they are capable of many different functions from basic PLC applications to complex motion sequences and multi-axis movement. To learn more about the IndraMotion MLC line, you can visit the link here. Some of the capabilities and characteristics of the technology include:
Use of international open standards for motion, robot, logic, and hydraulic control (IEC 61131-3)

Supports electric, hydraulic, and hybrid drives

Capable of integration of an extremely wide variety of automation topologies

Modular I/O systems with varying protection classes

Intuitive wizards and setup help in one uniform engineering tool

Utilizes CoDeSys V3-based PLC programming using all editors

Function toolkit Generic Application Template to automatically create modular machine programs

IndraMotion MLC easily made into a safety control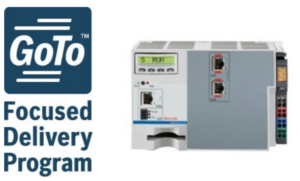 Image retrieved from https://www.boschrexroth.com/en/us/products/product-groups/goto-products/goto-electric-drives-and-controls/motion-control-pac/index
Bosch Rexroth's GoTo Focused Delivery Program helps expedite the shipping process of pre-assembled, ready to ship components. This web page links to a variety of Motion Control PAC's offered by Bosch Rexroth on their GoTo selection tool.
Because logic controllers are such a common component for Senior Design projects, price estimates of a handful of controllers from Bosch Rexroth are listed below. This information was updated on April 15, 2021 and is subject to have changed. The GoTo Focused Delivery Program page here has more information about the individual configurations of various controllers. Please see the pricing notice at the bottom of the page for more info.
Part Number – Description – Listed Price:
R911370639 – XM2100.01-01-31-31-301-NN-100NNNN – $1,967.99

R911391313 – XM2100.01-01-31-31-301-NN-111NNNN – $2,754.07

R911380465 – XM2200.01-01-31-31-001-NN-100NNNN – $4,804.30

R911173004 – CML75.1-3P-900-NA-NNNN-NW – $9,577.40
---
Pricing
If this is a product that can be useful for your Senior Design Project, please contact a Bosch Rexroth representative here for more information. Pricing can be determined on a case-by-case basis.