If you visit the Bosch Rexroth Ball Screw Assemblies website, there's a link at the bottom for accessories. This page will take a moment to explain in a little more detail what they are.
Nut Housing– Nut housing is directly coupled to the ball nut. The housing acts as a mounting surface for components that will be moved along the axis of the ball screw. Nut housing can be made of steel or aluminum and there are multiple sizes to fit any ball nut.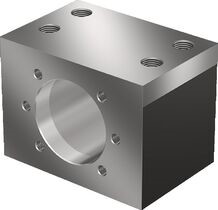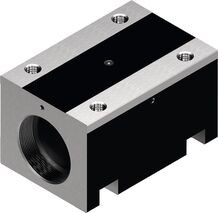 Pillow Block Unit– The Pillow block units, or sometimes called vertical bearing units are mounted at the end of the ball screws and contain bearings to allow near frictionless rotation of the screw. The pillow blocks do not move once installed. The units can be made of steel or aluminum and there are multiple sizes available. The pillow block pictures on the far left is for fixed screw end. This makes the assembly more rigid and is ideal for the driven end of the ball screw. The pillow block pictured in the middle is for a floating screw end, which is suitable for the non-driven end of a ball screw.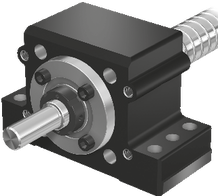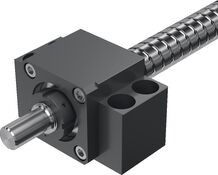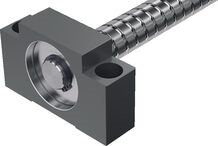 Bearings– There are tow main types of bearings that you will see most often for Bosch Rexroth Ball Screw Assemblies. Angular-contact thrust bearings are used in fixed screw end applications. The other is a deep groove ball bearing with is used in floating screw end applications.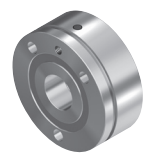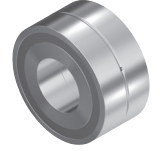 Slotted Nuts and Ring Nuts– Are used for the bearing assembly in the pillow block units for fixed screw ends.



Front Lube Units– Front Lube Units that are installed on Ball Nuts significantly improve the life of the Ball Screw assembly and are available for most Ball Nuts. The addition of a lube unit that is attached to a ball nut can lubricate the unit for up to five years or 300 million revoluations without needing to be re-lubricated.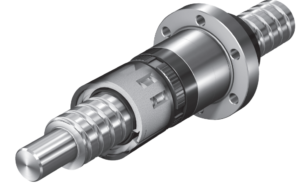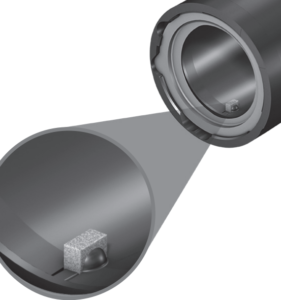 Measuring Pads– Measuring pads are used in the installation process of the ball screw assembly to ensure proper alignment. This is a gauge with a contact pad that comes in two different lengths and is self-aligning.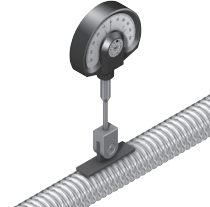 Arrestor Nuts– An arrestor nut is attached to the ball nut. In a vertical ball screw application, the balls in the ball nut hold the nut in place when the ball screw isn't rotating. If a failure occurs and the ball bearings are not sufficient to hold the ball nut in place, the arrestor nut meets the threads on the ball screw so the ball nut doesn't drop uncontrollably.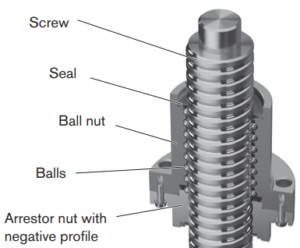 ---
Previous Page: Ball Screw Selection Guide