Bosch Rexroth®- Linear Motion Systems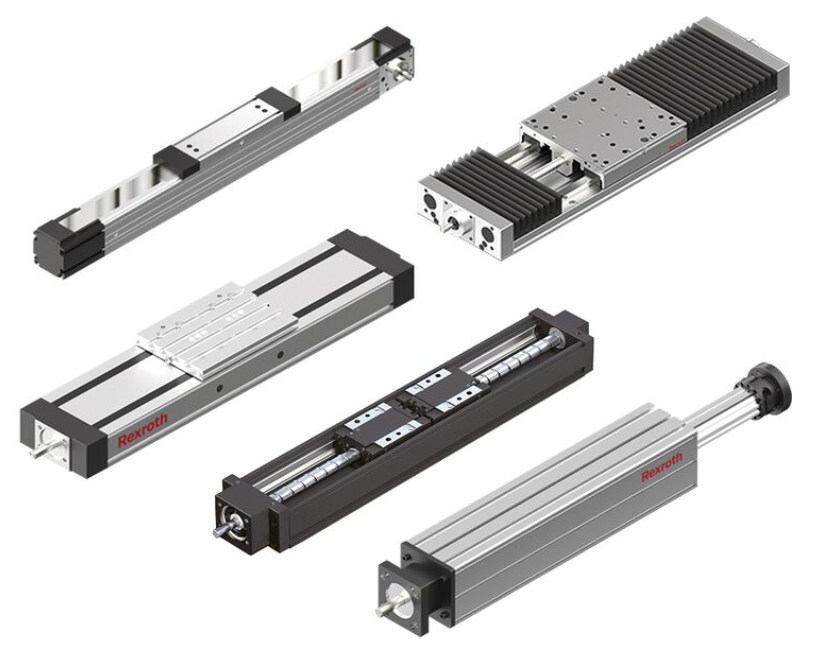 Introduction to Linear Motion Systems
Linear Motion Systems are a combination of a guidance system and a driving system. Bosch Rexroth's Linear Motion Systems includes modules, drives units, linear tables and linear slides.
Guides are components that provide guidance and power transmission to the machine's moving parts. The guide of a system is a huge factor in determining the accuracy of a machine. The types of guides that Bosch sells include Profiled Rail Systems, Cam Roller Guides and Linear Bushing Systems.
Drives are components that convert one type of energy (usually electrical, hydraulic, or pneumatic) to mechanical energy. The types of drives that Bosch sells includes Ball Screw Assemblies, Toothed Gear Belts, and Linear Motors.
A Linear Motion System is a ready-to-install system that incorporates both guides and drives. They are used in many sectors of industry but some of the sectors where Linear Motion Systems are most prominent include:
Electronic and Semiconductor Manufacturing

Medical Technology

Pharmaceutical Industry

Woodworking

Food and Packaging

General Factory Automation
Linear Motion Systems are often used by the industry because of their convenience and their diversity. Since Bosch's Linear Motion Systems comes pre-assembled and ready to install, including these in a project has the potential to lower the amount of assembly needed after a team gets their parts delivered. Linear Motion Systems also have multiple options for guideways, drive systems, and motors, allowing them to suit a variety of criteria for most projects.
Are they expensive?
Most linear motion systems are very expensive. This is because they include everything needed for a ball screw assembly in one package, so one doesn't have to spend their time designing one from scratch.
Applications
Here are some of the applications that Linear Motion Systems can be used for:
Pick and Place

Material Handling

Feed Units

Position Units
Benefits
Precise

Powerful

Ready to install

Compact
Linear Motion System Videos
http://https://www.youtube.com/watch?v=ByKHKrnjUA4
MKK MKR Linear Modules video by Bosch Rexroth
https://www.youtube.com/watch?v=NWJmCBD-_gE&t=2s
Functional modules FMB, FMS video by Bosch Rexroth
This section covers the design and theory behind a linear motion system and the different types of products that are more commonly used.
This section covers the meaning of the module names.
This section describes available accessories such as motors, switches, and sensors.
This section covers important calculations such as life expectancy, deflection, and motor sizing.
This section covers how to select the appropriate product for your application.
---
Pricing
If this is a product that can be useful for your Senior Design Project, please contact a Bosch Rexroth representative here for more information. Pricing can be determined on a case-by-case basis.
Linear Motion Technology Handbook. Linear Motion Technology Handbook, Bosch Rexroth, 2007.