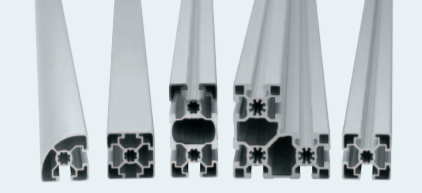 Types of Strut Profiles
Strut profiles is an extruded face that varies in length. They are used as support and framing in a wide arrange of applications. Bosch Rexroth provides six different profile ranges with modular dimensions:
6 mm slot, 20 mm Modular Dimension

8 mm slot, 30 mm Modular Dimension

10 mm slot, 40 mm Modular Dimension

10 mm slot, 45 mm Modular Dimension

10 mm slot, 50 mm Modular Dimension

10 mm slot, 60 mm Modular Dimension
Each strut profile, within each range, has the same slot dimension and spacing. This allows them to be used with other parts without any complications.
Other Profiles
While modular dimension profiles can be used in various applications, other strut profiles are made for a specific function and purpose. Below you will find other strut profiles and the description of their function.
Technical Data and more Information:
Below, you will find a link to where you can download a PDF of Bosch Rexroth's Aluminum Structural Framing System. Pages 16-20 of the PDF, you can find technical data such as moment of inertia, section modulus, and mass. Pages 435-447 also contains technical data such as Brinell Hardness, modulus of elasticity, and calculations for deflection, etc.
https://www.boschrexroth.com/en/xc/myrexroth/mediadirectory?publication=NET&language=en-GB&remindCcat=on&ccat_id=40530
---
Next Page: Aluminum Structural Framing- Naming Convention